SPOTLIGHT 29
19/07/2019 09:55
Welcome to the Spot Light. Check out the latest psychedelic, cosmic, prog, freakbeat, folk, kraut, experimental, jazz, drone, mystical, and avant-garde sounds! https://www.shinybeast.nl/blog
PSYCHEDELIC/PROGRESSIVE/FOLK
Repress of 500 copies on orange/red marbled vinyl. Camel Driver is a three piece instrumental rock band from Kiel, Germany. With an individual approach they combine finest desert rock sounds with raw metal influences and fine-tuned/hot oriental jazz parts. Inspired by the instrumental power of several bands, Camel Driver has gone deeply into versatile songwriting to create their own colorful and massiv sound landscapes combining bass heavy riffs and ambient moments. Camel Driver's music will appeal to fans of desert experimental psych à la Colour Haze, Causa Sui and Sungrazer.
A masterful collection of twelve unconventional reverb soaked songs telling the story of relationships in outer space. Dubbed as space-age folk rock, the band present their most elegant sound to date. Limited to 300 copies.
After the personal redemption and artistic triumph that was Joost Dijkema's debut album 'Sacred Revelations' (2016) he returns with his second solo album 'Time Thief'. On this colourful collection Dijkema explores the concept of time in relation to (sudden) loss, failure, anxiety, corrupted memories, love, strength, and the hope and insecurities relating to the near future through meandering and intense guitar explorations, hard hitting ballads, mutated yet groovy bluegrass, and lingering folk-rock. The dense instrumental opening salvo, 'We Came Across Pt. III' and 'Plastic Seawater' are undeniable and prepare you for the tour de force of the lengthy title song. The album closes with the atmospheric 'Galangal Tea with John,' a beautiful calm instrumental in which Joost is accompanied by lap steel guitar wizard John Hekert. The Finnish Heta Salkolahti is on board again to provide the album with graceful string arrangements and backing vocals. Dijkema might have an old soul for his tender age, but he's currently pushing the boundaries of rootsy fingerstyle guitar with his own singular, super-intense and transcendent guitar playing. This is grassroots guitar music for the past, present and future.
Championed by a soaring songstress Abbie Thurgood (The Torchettes), whose boldly evocative tones recall Skunk Anansie chanteuse Skin and Alabama Shakes' Brittany Howard, and accompanied by an agile and aggressive psych-rock outfit, composed of guitarist Devin "Darty" Purdy (Chron Goblin), bass player Brett Whittingham (Chron Goblin), percussionist Marcello Castronuovo (Witchstone), Gone Cosmic has carved out an expansive domain that stretches from sweltering Southern sludge pits to breath-stealing sonic spacewalks. 'Sideways In Time' is the debut album from the band. Hypnotic psych-rock pulses meet electromagnetic solar-powered soul. Comes on red and clear marbled vinyl, limited to 200 copies.
Scraping out of the grit of Brunswick (Melbourne, Australia), The Ivory Elephant are a three-piece playing heavy blues. Joining the blues/rock renaissance of bands such as The Black Keys and The White Stripes, and with a sound often likened to Jimi Hendrix and Led Zeppelin, The Ivory Elephant bring their own thing to the style. On this album the band really gets deep in to psych. The blues is still in there, but it's hidden behind a lot of fuzz and reverb.
'Bad Trip Exorcism' is the debut album of the German one-man band Crypt Witch. The creator of this idea -Eugen Kohl- is already known for his talent and versatility. His current projects include: Donarhall, Sinister Downfall, Death Carrier, Hexengrab, Nihilisticon, Urschmerz, Dark Fields and others. This time Eugen showed his passion for stoner doom by creating instrumental and characteristic stoner compositions interwoven with heavy, fuzzy riffs, hypnotic motifs and melodic passages. Eugen completely avoids singing and gives each listener the opportunity to dive into the world of magic and perform their own 'Bad Trip Exorcism'.
Now here's a tasteful collection of folk music from the former Republic of Czechoslovakia. The songs were recorded during the periode 1982-1986.
METAL/STONER/HARDROCK
Dirty darkness and raw wounds have now a sound, a voice and a visual imaginary. An evil owl looking at you like death facing, and a black hole that slips into the deep of nowhere. Demons are waiting for you into the harsh box of this split, beautifully illustrated by Coito Negato.
Antigone's Fate is the solo project of multi-instrumentalist Ruun from Germany. Founded in 2015 as a side-project and eventually turned into a long-term outlet for his creativity, Antigone's Fate stands for melancholic, sometimes even mournful atmospheric black metal that is rich in variety both in terms of musical expression as well as emotions it evokes. Continuing where the well-acclaimed 2018 debut album 'Insomnia' left off, yet easily topping its already very good predecessor, the second full length 'Zum Horizont...' is a brilliantly captivating work, deeply emotional and masterfully executed. The first pressing of the CD comes as collector's edition in digipack with 8-page booklet, limited to 500 copies.
Inspired by the godless wastelands of Northern Alberta as well as the jagged monoliths of the Canadian Rockies, Arctos brings together a unique blend of sounds to craft a form of black metal rife with atmosphere and melody. Formed in 2014 by a group of veteran musicians, Arctos is well steeped in musical tradition. With the 2017 release of their debut EP 'A Spire Silent', Arctos stepped into the light after almost three years of writing in secret. Arctos was finally unleashed upon the public and laid waste with their brand of savage northern black metal. In September 2019, after years of successful shows and touring across Western Canada, Arctos finally release their debut full length 'Beyond The Grasp Of Mortal Hands' and continue to set their sights ever higher. The first pressing of the CD comes as collector's edition in digipack with 12-page booklet, limited to 500 copies.
Belenos from Brittany is one of the oldest French black metal bands, continually active since almost 25 years, most of the time as a solo-project with live session members. Three years after 'Kornog', an album dealing with the water element of Breton's sea legends, Belenos' 7th studio album, entitled 'Argoat', which means something like "land of the woods", continues where its predecessor left off and focuses on the earth element - mainly local mystic forests, wild animals and Celtic gods. It is again sung in Breton, with the original lyrics as well as English translations of them included in the booklet. The final track the album, 'Arvestal', is a metal interpretation of a John Barry song ('The Persuaders', 1971). 'Argoat' was recorded between November 2018 and May 2019, as usual in Belenos' own home studio. Collector's edition in A5-digipack, limited to 500 copies. Includes a 12-page booklet.
Directly from the Sardinian west coast, comes the second evil EP from Green Thumb. Three tracks of pure stoner/doom, for all fans of Goatsnake, Windhand and Electric Wizard.
2019 album by this British black metal band.
2018 album by this German black/death metal band on vinyl. Originally a cassette only release. Limited to 215 copies.
2019 album by this German atmospheric black metal project.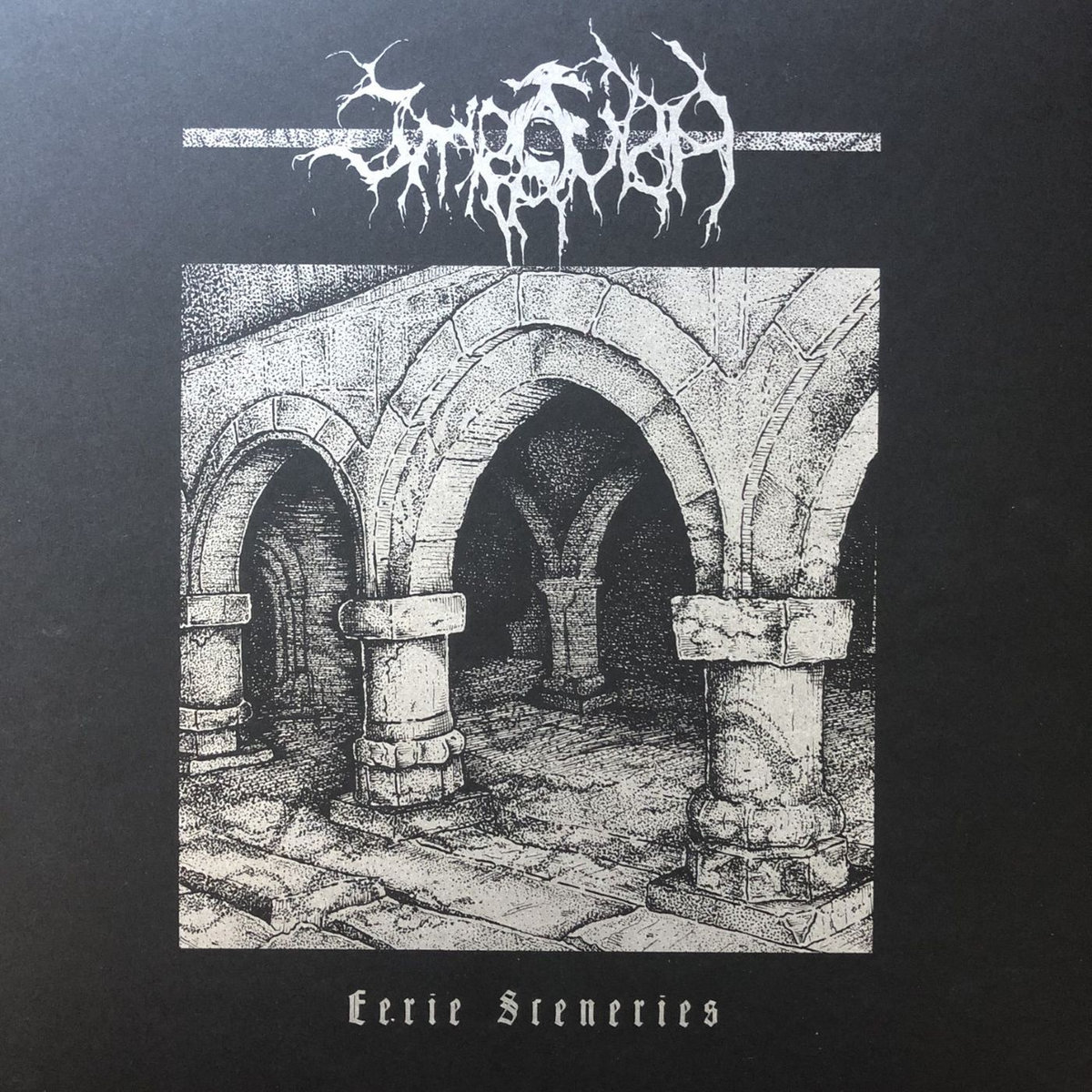 Reissue of 2008 atmospheric black metal album on vinyl. Limited to 291 handnumbered copies.
First album by this black metal band from Gelderland (NL), featuring members of Heidevolk, Fluisteraars, Wederganger etc.
2019 album by this German black metal band.
First album by this German atmospheric black metal band. Limited to 288 copies.
SOUL/FUNK/LATIN/R&B/GOSPEL
Inspired by the music of '70s Euro funk maestro Doug Lucas, Connie Price & The Keystones' third studio album 'Lucas High' is an intoxicating party sound that blends heavy grooves of funk, psych, Afrobeat, soul, jazz, rocksteady and rock with lyrical hip hop, both classic and new. TRACKS: 01. Turn It Loose feat. Doug Lucas, Alex Désert, Malik Moore, John Bigham 02. Hot Like A Sauna feat. Big Daddy Kane, Rapsody, Lady Of Rage 03. Play That Song feat. Imani and Brown of The Pharcyde 04. Mirror, Mirror feat. Soup and Marc7 of Jurassic 5 05. Three Kings feat. Brand Nubian and Macy Gray 06. Listen feat. LLGL TNDR (Black Shakespeare and Ta'Raach) 07. Gimme Some More Of That feat. Kelly Finnigan (The Monophonics) and Kendra Morris 08. Four Pound feat. Guilty Simpson and Percee P with Novena Carmel 09. Woman In My Bloodstream feat. Talib Kweli and Nini Monroe 10. Dusk 'Til Dawn feat. M.O.P. with Jovi Rockwell (Major Lazer) and Black Shakespeare 11. Build High, Lay Low feat. Brother J (X-Clan) and Wildchild
ELECTRONIC MUSIC/AMBIENT/D'N'B/TRIPHOP
Acclaimed South African artist Thor Rixon finally serves up a long-awaited dance album. It is a seven-track affair that finds Rixon deliver his own unique brand of avant-garde electronic music. Comes on mustard coloured vinyl.
SOUNDTRACKS/LOUNGE/CULT ETC
Maybe the best Alessandroni album ever. A true holy-grail which can be considered nowadays as the rarest LP from the king of Italian libraries. Jazz, mellow-funk, downtempo breaks, and incredible rock blends make this record a refined portrait of the '70s American way of life, viewed through the fully Italian lens of Alessandroni's sensitivity. After years of exhausting research, finally Four Flies can give a light to this obscure and fascinating mystery. Remastered from original master tapes. The LP comes on 180 gram black vinyl and is housed in a hard tip-on sleeve cover.
13 Afro dark electronic percussions cuts. Recorded by composer and multi-instrumentalist Giuliano Sorgini between 1974 and 1976 in his studio in Prati district in Rome, a stone's throw from Italian television offices, 'Africa Oscura' is a set of tracks inspired by the wildest and most obscure secrets of those lands, intended to be the background of some tv documentaries. Partially recorded during the same sessions as his celebrated 'Zoo Folle'.
VARIOUS: WORLD, CLASSICAL, SPOKEN WORDS ETC
This is the first collaboration between Ored Recordings and Sub Rosa. Kalmyks (Oirats) are part of the Western Mongolian ethnos, living on the territory of modern Russia. Tatiana Dordzhieva and Maria Beltsykova were deported to Siberia. These 2 energetic and charismatic grand mammas present here traditional Kalmyk songs (songs about the deportation of Kalmyks in 1943-1944) and Soviet folklore. SIDE 1: 1 Narmin Sanchir (Song about a man called Narmin Sanchir) 2 Erdnin Haalga (Song about a girl called Erdnin Haalga) 3 Tsagan Sarin Dun (Tsagan Sar celebration song) 4 Saig Säähen Saaryl (Beautiful Dun pacer horse) 5 Hürmin Dun II (Wedding wish song) 6 Om Maani Padme Mum, Otchi Manla Orshäthä/Sümin Magtal (Prayer to Buddha of medicine/Praising song to Buddhist gods and temple) 7 Sivrin Dun (Song about deportation to Siberia) 8 Matsha Sanji (Song about Matusha Sandzhi) (1) SIDE 2: 1. Matsha Sanji (Song about Matusha Sandzhi) (2) 2. Muhna Tsagan/Ovshin Hööchi (Song about a hunter girl called Muchna Tsagan/Song about a man called Ovshin Hööchi) 3. Aakin Küüken Kotush (Song about a young girl called Kotush) 4. Halmyg Teg (Kalmyk Steppe) 5. Elistin Suvsyrsyn Sö (Pearl night of Elista City) 6. Shin Jil (A New Year song) 7. Alta Gideg Gazrasyn (From the land called Altai) 8. Ashtab Polk (Song about Communist Army) 9. Samarin Gurvyn Tolgadyn (Among the three hills of Samara)
Blog
Previous editions:
29/09/2020 08:51 SPOTLIGHT 39
22/09/2020 08:54 SPOTLIGHT 38
15/09/2020 08:34 SPOTLIGHT 37
08/09/2020 08:50 SPOTLIGHT 36
01/09/2020 08:45 SPOTLIGHT 35
24/08/2020 14:32 SPOTLIGHT 34
18/08/2020 08:32 SPOTLIGHT 32 & 33
31/07/2020 09:09 SPOTLIGHT 31
27/07/2020 18:20 SPOTLIGHT 27 + 28 + 29 + 30 part 2/2
27/07/2020 17:56 SPOTLIGHT 27 + 28 + 29 + 30 part 1/2
30/06/2020 10:32 SPOTLIGHT 26
22/06/2020 10:20 SPOTLIGHT 25
15/06/2020 11:08 SPOTLIGHT 24
08/06/2020 10:15 SPOTLIGHT 23
31/05/2020 16:26 SPOTLIGHT 22
25/05/2020 15:32 SPOTLIGHT 21
19/05/2020 07:59 SPOTLIGHT 20
11/05/2020 18:28 SPOTLIGHT 19
05/05/2020 08:01 SPOTLIGHT 18
27/04/2020 10:30 SPOTLIGHT 17