SPOTLIGHT 33
16/08/2019 13:40
Welcome to the Spot Light. Check out the latest psychedelic, cosmic, prog, freakbeat, folk, kraut, experimental, jazz, drone, mystical, and avant-garde sounds! https://www.shinybeast.nl/blog
PSYCHEDELIC/PROGRESSIVE/FOLK
Presented in a hand-numbered box are reissues of six incredibly rare US '60s garage-psych singles! This edition is limited to 500 sets.
SINGLE #1: CREATION'S DISCIPLE
Side A: Psychedelic Retraction
Side B: I'll Remember
SINGLE 2: THE BEAUTIFUL DAZE
Side A: City Jungle Part 1
Side B: City Jungle Part 2
SINGLE 3: THE DONNYBROOKES
Side A: Time Will Tell
Side B: You're Gonna Cry
SINGLE 4: THE HOOTERVILLE TROLLEY
Side A: No Silver Bird
Side B: The Warmth Of Love
SINGLE 5: THE IGUANA (a.k.a. THE IGUANAS, with Iggy Pop!)
Side A: Black Suit
Side B: Leaving You Baby
SINGLE 6: The ZAKARY THAK(S)
Side A: My Door
Side B: Green Crystal Ties
Blackwater Holylight, as the name suggests, is all about contrasts. It's a fluid convergence of sound that's heavy, psychedelic, melodic, terrifying and beautiful all at once. As a heavy band, their songs aren't anchored to riffs, but rather riffs come and go in waves that surface throughout the band's meditative, entrancing songs. It's a hypnotic sound, with orchestral structures that often build tension and intrigue before turning the song on its head - not by simply getting louder or heavier, nor by just layering elements. They expertly subvert the implied heaviness of a part, dissecting it and splaying the song's guts out to seep across the sonic spectrum. Now, having toured together extensively following the band's wildly-successful breakout self-titled debut in 2018, Blackwater Holylight has honed their sound and identity to a powerfully captivating beast. Their live set is all about the slow build, seeming to combine the melodic tension of early Sonic Youth crossed with the laconic fever-dream blues of the first Black Sabbath album, and wiry experimentation of post-punk and krautrock.
Earthling Society's 2009 album 'Sci-Fi Hi-Fi' for the first time on vinyl. Fred Laird has remixed the album completely for a more stripped back darker sound. Remastered by John McBain of Monster Magnet/Wellwater Conspiracy fame. Limited run of 250 copies on blue sky and cream vinyl. Intense and layered space rock!
After many delays, Sorcerer is please as punch to finally reissue the debut LP from 1987 by Milwaukee space-rock gods, F/i: 'Why Not Now?... Alan!' Available for the first time on the format since its initial release, it remains a Holy Grail item for lovers of cosmic rock & roll sounds from Underground Amerika in the 1980s. F/i had been churning out tape upon tape of experimental electronics since the early '80s. Influenced by krautrock (particularly Cluster, Tangerine Dream, Ash Ra Tempel) and the harsh noise of industrialists Throbbing Gristle and early SPK, by the mid '80s they morphed into a fully fledged "rock" band, albeit one incorporating all of the above. This LP is the perfect synthesis of these sounds: grimy, lo-fi "rock" with elements of industrial clang and extended, Hawkwind-ish space-rock jams; from the two-step cosmic churn of 'Electric Waltz' to the `Neubauten-style bang and bash of 'Zombie Theme'. Remastered by Mikey Young, the sleeve perfectly replicating the original, this edition is a limited edition of 500 copies.
...FESTIVAL 2017' - Featuring Pete, Lee and Glenda from Sendelica. Limited to 200 handnumbered copies on black vinyl. Signed by Pete.
USA version on Nomad Eel Records. Experimental psych artist from Montreal, Canada. This is the U.S. reissue limited to 300 LPs with a different cover and on bubblegum pink vinyl. The first press was released by Stolen Body Records (UK).
The return of LatteMiele 2.0 with the legendary members Massimo Gori (bass player and singer) and Luciano Poltini (keyboard player) who played in the band from 1974 until 1980 when the group disbanded after the great album 'Aquile E Scoiattoli'. 'Paganini Experience' is dedicated to the "Devil's Violin" Niccolò Paganini... the true first rockstar ever. A dark character, wrapped in mystery, charismatic, with a gloomy aspect. Acclaimed by the crowds, desired by women. Character of the most beloved and at the same time reviled. To complete the band there are Elena Aiello who, despite her young age, has world-class symphonic experiences and Marco Biggi on drums, a very experienced musician who is well known and appreciated not only in the world of prog-rock. The album is a journey that portraits the life of Paganini, from his birth in Genoa on 27 October 1782 in a modest family until his death in 1840. He left a great body of work: the very famous 24 caprices for violin; 12 sonatas for violin and guitar; 15 quartets for guitar, violin, viola and cello; 3 for strings; 6 concerts and over 20 sonatas for violin and orchestra. He was very appreciated by artists like Beethoven, Liszt, Chopin, Schubert, Schumann, Berlioz. He anticipated the times and left a diabolical and cursed image of himself. He consumed his existence in excesses of any kind; addicted to alcohol and drugs, dating women, like a real rock star... anyway a true genius... for this reason, with this album, LatteMiele 2.0 want to pay homage to him. The LP version comes with 20 page book.
Leopard Skull's 'Welcome Home' is a dreamy, strange and very psychedelic affair. As if The Beatles, in their most colorful period, listened to bands such as Foxygen and Mild High Club.
Formed in Taipei, Taiwan in 2013, comprised of member Lu Li-Yang and Lu Jiachi, Scattered Purgatory is a name derived from a Taoist ritual which expiates the souls of the innocent from a state in between life and death and then at last, release. Scattered Purgatory's sound expresses soundscape to the world by using a familiar approach... but with an oriental narration geographically and spiritually. 'Lost Ethnography Of The Miscanthus Ocean' contains six of their earlier works from 2013 to early 2014. The original release on cassette from Guruguru Brain sold out in less than a month. Includes 1 extra track on side D. Comes on coloured vinyl.
Bochum based Clostridium Records and Lima's new label Catrina Records are proud to announce the exclusive, worldwide vinyl release of Peruvian shamanistic psychedelic shoegaze duo Tribu's debut album, 'Círculo'. Tribu was formed in late 2016 by singer and multi-instrumentist Yazmín Cuadros and Richard Nossar of (Don Juan) Matus fame in the archaeological monument of Chavín de Huantar, a place which was the administrative and religious center of the Chavín culture, built and occupied approximately between 1500 and 300 AC. The album, which earned record of the year accolades in Peruvian underground and mainstream media, was originally issued in late 2018 via Catrina Records, only on CD format, making this the first time the album's available worldwide in an analog format. Limited to 160 copies on yellow/green marbled vinyl.
Wild Fuzz Trip is the music of the PedalTVChannel crew with the Icelandic artist Bjarki Omarsson on drums. One thing about Wild Fuzz Trip that sets them apart is they make music that you would call doom, but also they make psychedelic music, too. They ride right along the line between doom and psych. A track like 'Mammoth Tower' has some psych elements to it, but it is more doom. But a track like 'Stonefly Echo' has more psych guitar and effects. And another thing about Wild Fuzz Trip are the PEDALS! So many pedals!
GARAGE/BEAT/SURF/ROCK'N'ROLL
The A-side 'Tonight' kicks of with a dark, gloomy monster fuzz guitar in true Smoggers style. Haunting vocals combined with a snotty harp makes this the perfect floor filler at any party. The B-side 'Your Lies' shows a more moody, organ up-tempo style of garage. Here the band gives Ana and her Vox Jaguar organ 100% attention so the swirling notes and intricate chord changes comes to their right. In an everchanging music world where today already is obsolete before it becomes yesterday, it's a relief to turn on The Smoggers. So put down the stylus and get the groove! Limited to 300 copies.
Paint Fumes' third full-length LP is a whirlwind of wild times, dark and light. The disastrous born-to-lose original 3-piece is back. Still outta their minds, but a bit more weathered and wiser. This record was recorded in between non-stop touring and a whole lotta living. The apocalypse is coming and Paint Fumes show they are ready for it with this album, 'What A World'.
'Desert King' is a must have for every fan of real surf and r'n'r music. The powerful guitar riffs of Alex Berekos drive the surf and r'n'r scene for more than 30 years.
POP/ROCK/WAVE/NOISE
Originally released in 1988 on Fierce Recordings as a collection of five one-sided singles in a 7" cardboard box (etched on B-sides), with information insert, and hand-drawn designs on the box and labels. It now sells for £250 if you are lucky enough to find a copy. This release includes the original five tracks, and for the first time, five tracks on the flipsides. All of the B-sides were recorded in 1988 and four of them have never been available before, the other track 'Hard On Love', was released in 1989 on a flexi-disc and has never been available in any other format. This is a limited one time pressing on five different coloured vinyl 7" singles + 24 page booklet. TRACKS: A1. 1-2-3 Red Light A2. Double Shot B1. Heroes And Villains B2. Life's A Gas C1. Heartbreak C2. Sex Head D1. I Know Someone Who Knows Someone Who Knows Alan McGee Quite Well D2. Hard On Love E1. Indiepop Ain't Noise Pollution E2. Knock Three Times
Four tracks from the French ye-ye era, as sung by some of the greatest artists from France. Very limited edtion. TRACKS: 1. Sylvie Vartan - Ne T'en Va Pas 2. Caroline - Mister A Gogo 3. France Gall - Laisse Tomber Les Filles 4. Eileen - Ces Bottes Sont Faites Pour Marcher
Very limited 7" release which includes four French '60s pop gems. TRACKS: 1. Jacques Denjean - Nevrose 2. Pierre, Paul ou Jacques - Je Suis Turc 3. Jacques Filh - Wraaaach! 4. Eric Harden - Pas Question
The 10 tracks on this album are hypnotic jewels that unashamedly display KODE's immense talent. Displaying all its motley influences, the band manages to pull out of the game by proposing a highly nuanced style that owes as much to noise rock, slowcore as to more indie-grunge-pop. The guitars know how to be overwhelming with heaviness or finer depending on the need of the song, the bass can either breathes a dry groove or be more insidious, the voice distils its contagious melodies which encrust themselves in the cortex in a definitive way. The large and powerful production of Julien Fehlmann (Unfold, The Ocean, Dirge, Coilguns, Kehlvin...) reveals a multitude of details and subtleties over the course of plays and finally allows 'Discrete Transformation' to become as indispensable as the albums that have rocked our adolescence. For fans of L7, Hole, Chelsea Wolfe, PJ Harvey, Melvins, Nirvana...
Samtsi Dronta was a shoegaze/dream pop/experimental band formed in the late '80s in Izhevsk, USSR. The first rehearsals were about noises made on detuned guitars and cheap Soviet synths while listening to cassettes of Clan Of Xymox, Cocteau Twins, Coil, Psychic TV and Dead Can Dance in the cinema booth where Konstantin Bagaev (from Stuk Bambuka V XI Chasov, another cult soviet experimental band) worked. In 1990 the line-up consisted of Maxim Fedoseev and Anna Lebedeva. Concerts happened infrequently and the band recorded some tracks in 1992 ('Cassandra' and 'Croquet') and 1993 ('Wild Child'). Also a music video called 'Twilight' was made. During early '90s various musicians joined and left the band (Vasily Agafonof (ex-Stuk Bambuka V XI Chasov), Alexandr Merzlyakov) and finally a duo was left of core members Maxim Fedoseev and Anna Lebedeva. In the late '90s they disbanded. Maxim Fedoseev started other projects and Anna Lebedeva started a media career. This is the band's first release on vinyl, remastered from the original recordings. This is a very limited edition of 200 copies. Co-released with XII Chasov records from Russia. Only 100 copies available per label.
PUNK/HARDCORE
It was at the tale end of what would later be loosely termed 'The Seventies', in Lincoln, Merry England, that three teenagers formed, the consequencies of ther actions are captured here. 'You Were So Young' consists of everything that The Cigarettes ever recorded in what was their two year life span. From the very beginnings in the rehearsal room through to tracks recorded for an unreleased third single. It includes the two singles and their flip sides, some tracks that were included on a local compilation album, and their solitary John Peel session along with a handful that never found their way onto a record. Their debut single 'They're Back Again, Here They Come', exchanges hands from upwards of £100 and 'You Were So Young' has been viewed on Youtube over 1.3 million times. The inner sleeves include an in depth interview with Rob and Steve, answering pretty much all there is to know about The Cigarettes. Over the years The Cigarettes have gained a wealth of interest, leaving many to scratch their heads and wonder how they slipped under the radar for so long. SIDE 1: 1. They're Back Again, Here They Come 2. I've Forgot My Number (Now I'm Telling You My Name) 3. All We Want Is Your Money 4. Can't Sleep At Night 5. It's The Only Way To Live (Die) 6. Stay Inside SIDE 2: 1. Looking At You 2. Frivolous Disguises 3. Run 4. After All 5. Don't 6. Screaming Dreaming SIDE 3: 1. You Were So Young 2. Damage Your Health 3. Miranda 4. Media Menia 5. Surrender 6. Valium World SIDE 4: 1. Can't Sleep At Night (John Peel Session) 2. Frivolous Disguises (John Peel Session) 3. It's The Only Way To Live (Die) (John Peel Session) 4. Valium World (John Peel Session)
Holland had one of the best European hardcore scenes back in the eighties. Lärm, B.G.K. and Pandemonium wrote some indelible pages of Dutch hardcore and, together with them, there was another combo that approached the scene with an extremely raw, fast and aggressive demo tape in 1983 and their name was (and still is) Neuroot! They got tighter and harder and in 1986 the excellent 'Right Is Might' EP was out. The times were changing and more and more bands were moving on towards metal territories giving birth to what we now call "crossover". And it was 1988 when 'Plead Insanity' was originally released. They became better musicians and the songwriting was less simple than their previous releases, but the rawness, aggressiveness and speed hasn't been lost in the years. This is a perfect sample of what the hardcore vibe was around the end of the eighties. The record has a totally new layout and if you wanna dive back into the old pits, here is the chance. Don't miss it!
This is a compilation of the Los Angeles based punk metal band Zig Zags' music in sequential order of their release so that the listener can hear for themselves the evolution of the band's music. The first LP of the compilation, side 1 and 2 holds the band's project 10-12 that was released by Burger Records as a cassette. The cassette was limited to 300 but has long been sold out and pretty tough to find. This 2xLP release is also limited to 300 as a homage to Burger Records. The second LP, sides 3 and 4, is comprised of all of their single 7"s from Volcom Etertainment, In The Red Records, Chrome Banana, and Famous Class.
INDUSTRIAL/EXPERIMENTAL/NOISE/NEOFOLK/GOTHIC
Sajjra is a project of Peruvian artist Chrs Galarreta. 'Synthexcess' was recorded in Rotterdam and it is a collection of telluric, ethereal, unique and unclassifiable songs. Sajjra's sounds can call forth the resonance of Andean brass orchestras or of sublime natural landscapes. They emanate textures and rhythms that evoke urban and rural soundscapes mutating in epiphanies full of noise, color and trance. Chrs Galarreta (Peru, 1976) is one of the important figures of the South American experimental underground. Going back and forth from Europe to his homeland, he has been experimenting with noise in a strictly DIY way since 1995. This philosophy has led him to expand his abilities into realms such as harsh-pop songs, experimental music, installation art, software hacking, free improvisation and electroacustic compositions. He is a man with many aliases and side projects: Aloardi, DiosMeHaViolado, Evamuss, Chrs, Tica, and Invisible Architecture among others. His song project Sajjra emerged from the depths of the Uku Pacha in 2012, merging psychedelic songs with Andean-tropical music and sound experimentation.
Merzbow stands as the most important artist in noise music. The moniker of Japanese artist Masami Akita was born in Tokyo in 1979. Inspired by dadaism and surrealism, Akita took the name for his project from German artist Kurt Schwitters's pre-war architectural assemblage The Cathedral of Erotic Misery or Merzbau. Just as Schwitters attacked the entrenched artistic traditions of his time with his revolutionary avant-garde collages, so too would Akita challenge the contemporary concept of what is called music. Merzbow would draw further influence from the futurist movement. Not only would he embrace the futurists' love of technology and the machine civilization, he would push their fondness for noise to the very boundaries of the extreme. Working in his home, he quickly gained notoriety as a purveyor of a musical genre composed solely of pure, unadulterated noise. By the 1990s, Merzbow had a significant underground reputation for creating harsh and power electronics album. 'Metalvelodrome' was originally released in 1993 by the fabulous Japanese label Alchemy as a four CD box. Limited to 500 copies reissue in wooden box.
Toshiji Mikawa started his musical activities in the late 1970s and joined the legendary and notorious Japanese noise legends Hijokaidan. In 1981 he formed Incapacitants to pursue his interest in pure noise, in contrast to the more performance art oriented Hijokaidan at that time. Initially a solo project, he was later joined by Fumio Kosakai to make Incapacitants a duo that has been widely acknowledged for their extreme sound and intense live performances. Still an active member with both groups nowadays, Mikawa has only made very few solo works without the participation of other parties. 'Radio Code' is one of the rare opportunities we have to hear him in his own personal element. Performed on black box electronics designed and built by Mikawa - and destroyed during use - it was recorded in 1988 and released the following year as a C60 cassette on AQM, a label started in 1978 and run by John Duncan, at first in Los Angeles, then later in Japan, finally ending when Duncan moved to Holland. This CD, reissued in an edition of 199 copies, comes with a special handmade package made of laser-engraved black foam plates, black tissue paper and string. Includes an insert printed on special paper that replicates the original credits.
The Rita 's masterpiece 'The Nylons Of Laura Antonelli' reissued in a black wooden box with laser engraving that includes 4 CDs in wallets with full color artwork, the original 2009 insert, a foldable color poster and a certificate numbered in 300 copies.
Vomir -the best HNW artist around- returns on Urashima with a 6 CDs set that come in a black wooden box with laser engraving. HNW stands for Harsh Noise Wall -or Wall of Noise- and Romain Perrot, who is best known for his habit of wearing a black bag over his head when playing live as Vomir, is its master. These six solid CDs resolutely occupy a narrow and strictly defined dynamic band, with shifting textures of distortion and heavy low end. In retrospect it's quite surprising that it has taken noise artists this long to notice the appeal of stasis - its ear-fooling potential amplifies minor structural changes and turns small sounds into disproportionately large events, as well as allowing them to generate a genre variant which is both intensively aggressive and strangely calming. Nothing is progress. Everything repeats itself endlessly and nothing stands out as important. Nothing more should be undertaken. We will never reach the final destination. The truth is over, here comes loneliness. These are six definitive volumes of total static harsh noise, crusting, crushing and crackling, each of them lasting 75 minutes. No ideas, no changes, no development, no entertainment and no remorse. Urashima continue its tribute to the genre with more than seven hours of monolithic HNW. Limited to 200 copies.
METAL/STONER/HARDROCK
'Buried Memories' is a collaborative post metal colossus and the second part of the journey that started with 'Continuum' in 2018. This unique release has been mixed by industrial metal icon Justin K. Broadrick and ambient gloom metal maestro James Plotkin. 'Buried Memories' contains two 10 minute slabs of eclectic ambient progressive rock and a series of interpretative remixes of the theme tracks by both Broadrick and Plotkin. Justin Broadrick collaborates with the band on side A through the progressive riff saga of 'Hitmen' which he has mixed and also provided two remixes in his guise as Jesu and another as the eponymous JK Flesh. These three staggering pieces of music elapse over 27 minutes of pure instrumental voyage in a way that only Sons Of Alpha Centauri and Justin Broadrick could deliver! James Plotkin and SOAC collaborate through several tracks including 'Warhero', a sprawling 10 minute odyssey and a masterful remix of 'SS Montgomery', the single from the band's landmark instrumental debut album. After 'entering the Continuum' the listener must now 'bury their memories'. The darkness will envelope the listeners in this second part of their epic sprawling progressive dark rock saga.
Awesome studio disc by this excellent guitarist from the UK featuring 10 tracks of top-shelf, dynamic, blues-based, heavy guitar rock music of world class proportions. Marino is an authentic, seasoned six string axeslinger who rocks the blues with soul and passion and on 'After The Storm' the British guitar hero lands with his best/strongest disc to date. Marino has been kicking ass on the guitar since the early '80s opening for the likes of Thin Lizzy, Robert Plant, Johnny Winter, Mick Ralphs, Steve Marriott, Ian Gillan and many others through the years including jamming on stage with Carlos Santana at the Hammersmith Odeon. 'After The Storm' is a well-produced musical document that includes a cast of superb professional musicians. Highly recommended to fans of serious, high quality, melodic, retro-sonic, guitar rock excellence.
'Paint The Skies Blue Forever' is a musical tribute dedication to phenomenal guitar hero legend Rory Gallagher. Featuring and co-produced by the multi-talented Stavros Papadopoulos on guitar and vocals and including an all Greek cast of excellent musicians, the Shadowplay Project lands with true passion; an outstanding, authentic "musical document" that celebrates the classic, timeless, guitar rock music of Rory Gallagher. Includes 13 superb, dynamic, blues-based, soul-powered, retro-sonic, guitar fueled songs performed and recorded with the utmost attention to detail, respect and excellence devoted to the great guitar man and his music.
Mega-awesome third studio disc from this amazing instrumental heavy guitar rock power trio from Greece featuring 10 songs of outstanding, dynamic, blues-based, cosmic stoner guitar music that shines with endless depth, scope and creativity. Flowing through time and spectral space that glows with hypnotic ancient mystery, the Universal Hippies set the controls for the heart of the sun and have produced a stellar work of art. Prepare to fly high far beyond the sky with 'Astral Visions'.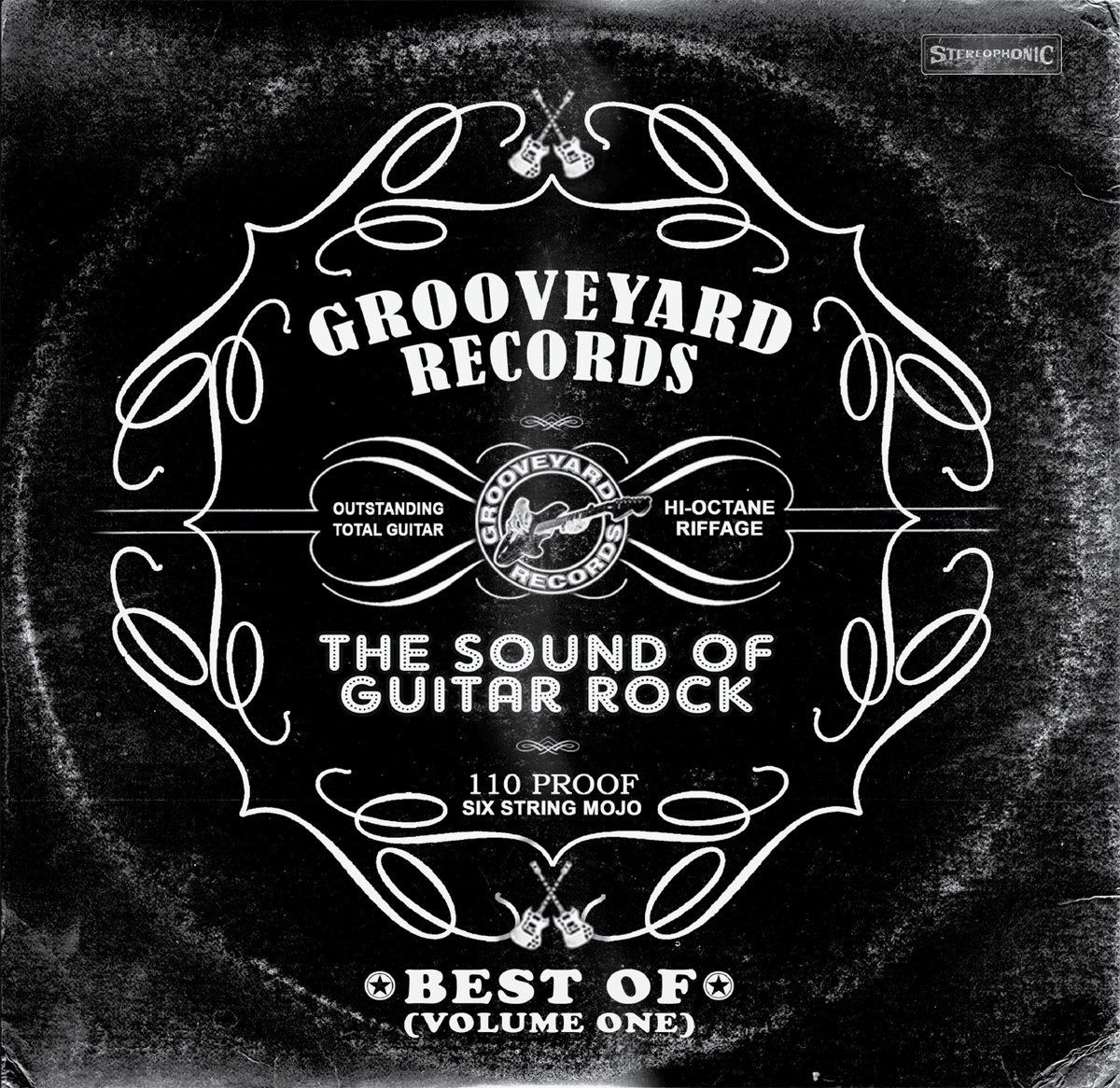 As part of Grooveyard Records' 20th Anniversary, they are very proud to announce the release of the way-kool, killer 'Grooveyard Records: "Best Of" (Volume Four) (The Sound Of Guitar Rock)' disc. This awesome heavy guitar rocker features 15 outstanding tracks of bad-ass Grooveyard Records riffage/mojo that represents what they are all about. Pure unadultered brain-damaging killer blues-based guitar rock excellence. Includes mega-awesome tracks by SUPER VINTAGE, REVOLUTION HIGHWAY, FREEROCK SAINTS, HARD DRIVER, BLINDSTONE, BRYCE JANEY, GEORGE FOSTER, SAKIS DOVOLIS TRIO, DIRTY DAVE OSTI, ROCKICKS, MOUNTAIN OF POWER, MARTIN J. ANDERSEN, JIMMY RYAN, JAY JESSE JOHNSON and UNIVERSAL HIPPIES. Tune in and find out why serious guitar rock Mojo is the religion at Grooveyard Records.
BLUES/COUNTRY/OLDIES
Excellent Live disc by the Blindside Blues Band recorded at the Satyr Blues Festival in Poland. Includes 10 songs of bad-ass, dual guitar fueled, hard rockin' blues mojo captured live without a net. Features Mike Onesko and Jay Jesse Johnson rippin' up their guitars along with Mark Kingen on bass and powerhouse drummer Jeff Martin kickin' ass at a classic set of killer BBB riffage. Crank up the volume and rock your blues away with this kool disc that is recommended to fans of blues-based heavy guitar rock.
Awesome debut studio disc by this killer blues/rock axeslinger from Texas featuring 12 songs of top-shelf, blues-based, dynamic, heavy guitar mojo that rocks the blues with style, class and authority. Tony Rondini is a true, legit guitar hero cat who speaks the six string language of the greats with fresh, creative, sophisticated musical excellence. Highly recommended to fans of Hendrix, Robin Trower, Gary Moore, Joe Bonamassa, Indigenous, Jay Jesse Johnson, Buddaheads, Craig Erickson, Clas Yngstrom and Sky High and all other serious, blues-based, heavy guitar rockers on planet earth.
REGGAE/DUB/SKA/ROCKSTEADY
'EARLY DANCEHALL PRODUCTIONS FROM BUNNY LEE' - Pressure Sounds' first foray into Mr. Lee's transformative rub a dub work from the late seventies to mid-eighties. Bunny "Striker" Lee was always attuned to even the slightest change in the musical landscape of Kingston. He quickly picked up on this shift in taste and knew he had to compete or be left behind. By 1980, Striker had gathered a stable of young artists around his core veterans like Cornell Campbell and Johnny Clarke to build riddims and tunes to speak to this new "dancehall" vibe. With a deep knowledge of classic songwriting, an ability to effectively communicate with musicians and an infusion of new talent, Striker Lee's new direction quickly hit gold. 'Rubadub Revolution' mines this often overlooked period with rarities like The Paragons' obscure 'A Place Called Zion', classic tunes such as Don Carlos' 'Pass Me The Lazer Beam' and extended 12" mixes featuring DJ cuts by Papa Tullo, Purpleman, Simple Simon and others that showcase the excitement, experimentation and raw energy of this transformative period of Jamaican music. Includes extensive track notes by Diggory Kenrick and an extensive interview with Bunny Lee. SIDE 1: 1. The Paragons - Know Yourself Mankind 2. Don Carlos & Papa Tullo - Lazer Beam (Nuff Stylee) Extended 3. Johnny Clarke - I Man Come Again 4. Papa Tullo - Every Half Is A Fraction SIDE 2: 1. Cornell Campbell & Scientist - Bandulo Extended 2. Neville Brown & John Wayne - The Right Time (Boogie Down) Extended 3. The Paragons - A Place Called Zion 4. Pappa Tullo - Part Two SIDE 3: 1. Simple Simon - Revolution Fighters 2. Trevor Castell - Too Popular (Previously Unreleased) 3. Cornell Campbell - Exterminator (Previously Unreleased) 4. Simple Simon - George William Gordon (Previously Unreleased) 5. Devon Edwards - Babylon No Badda Haul And Pull Me (Previously Unreleased) SIDE 4: 1. Cornell Campbell & Errol Scorcher - People Cruel Extended 2. Devon Edwards - Lay Down Flat 3. Professor - Lay Down Flat Version 4. Frankie Jones - Gun Fever 5. Donovan Phillips - Gun Fever Version
David Hadfield, along with John Harper, set out to produce rocksteady and reggae music from a south London recording studio. They created the Revolution Records label to release it on, which has baffled collectors and enthusiasts worldwide for years. With this album, Circle Records have restored music from tape and disc and shed some light on the label's story. Prices for the original records are high and climbing, along with interest in reggae (after it's addition to a "Unesco" cultural heritage list in 2018). The curious casual buyer and the dedicated collector would both find something of interest here. Comes with 28-page booklet with colour cover and centrespread with the story of the label, detailed discography and colour label and sleeve shots. 43 tracks over two discs, all restored and remastered. Covers all the label's rocksteady and reggae single sides, the best from two albums plus three unreleased tracks. CD1: 01. Sitting In The Park - Owen Grey & Maximum Breed 02. You've Got It - Pete Hunt & Maximum Breed 03. Ob-La-Di Ob-La-Da Story: Alullo (Part I) - Jimmy Scott & Maximum Breed 04. Ob-La-Di Ob-La-Da Story: Doh (Part II) - Jimmy Scott & Maximum Breed 05. Dream Lover - Owen Grey & Maximium Breed 06. Mudda-Granma-Reggie - Maximum Breed 07. Groovie Kinda Love - Elki & Owen 08. The Whistler - The Rim Ram Band 09. Sitting In The Park - Soft Sensation 10. Red Window - Soft Sensation 11. Take Good Care Of My Baby - Clive Williams & The Heatwave 12. In Loving Memory - Clive Williams & The Heatwave 13. Jingle Bells - The Gladiators 14. Groovie Kinda Love - The Gladiators 15. Keep Your Fingers Crossed - Danny & Cherry 16. Calling - Danny & Cherry 17. Honey Don't - Fire Session 18. Maximum Serenade - Fire Session 19. Souvenir - Fire Session 20. Bad Girl - Fire Session 21. Where Do I Go - Patsy & Sterling Sound 22. Love - Patsy & Sterling Sound CD2: 01. Unusual Reggie - The Gladiators 02. Andue - The Gladiators 03. Every Day I Have To Cry Some - The Carols 04. Sleeping Reggie - Fire Session 05. Death Of The Ugly One - Fire Session 06. Big Feet - Fire Session 07. World Cup 1970 - Forward Line 08. True Confession - Forward Line 09. Cupid - The Brixton Market 10. Hold Me Tight - The Brixton Market 11. Everybody Needs Love - Owen Grey & The Brixton Market 12. Gimme Some Lovin' - Elki & Owen 13. Mr. Sun - Owen Grey 14. Ginny Come Lately - Owen Grey 15. Rub-A-Tummy - Flanelcat 16. Children Get Ready - Owen Grey & The Brixton Market 17. Bangarang - The Brixton Market 18. Seven Letters - The Brixton Market 19. The Horse - Maximum Breed 20. Ride Your Donkey - The Brixton Market 21. Wet Dream - Owen Grey
SOUL/FUNK/LATIN/R&B/GOSPEL
Julio Medrano Cotito has developed a very prolific career as a singer-songwriter and performer of the Peruvian cajón. He is one of the emblematic figures in the world of Afro-Peruvian music today and his name appears in many of the main fusion ensembles that have lead way in the exploration of black rhythms in Peru. Cotito has traveled around the world, sharing his music and knowledge of the cajón in schools and universities. 'Hechicero' is the second volume of the collection 'Perspectives On Afro-Peruvian Music', is an entry into the sources of the Afro tradition. It is a celebratory album, which invokes Manuel Vásquez, Eusebio Sirio and Julio Algendones, the three great Peruvian cajoneros who are honored here in separate compositions based on the instrumental mixture of cajón, chekere, jawbone, cajita, bell, congas, bongo, guitar and bass, in powerful and exuberant rhythmic interaction which makes up the essence of Cotito's style, and at the same time presents the genuine Afro-Peruvian sound: Festejo, Son de los Diablos and Zamacueca. Produced by Manongo Mujica and Daniel Mujica.
ELECTRONIC MUSIC/AMBIENT/D'N'B/TRIPHOP
The debut EP from producer Manu Dia. The Spanish producer has previously released remixes for San Holo, DROELOE, and Robotaki but this is his first complete body of work. This EP features both internationally known Panama and up-and-comer KOLE. 'Surface' is about coming to terms with the ebb and flow of life and, ultimately, jumping off the edge and pursuing a passion. There comes a point in each of our lives when we face a choice and must point ourselves towards an end goal or destination - whatever it may be. 'Surface' is a reflection of this decision - and the journey that ensues - with every piece serving as a stepping stone on the path.
Early electronic music from 1959 to 1969 produced by the Institute Of Sonology (Instituut Voor Sonologie) in Utrecht, Holland. These electronic works were composed by Dick Raaymakers, Frits Weiland, Ton Bruynel, Konrad Boehmer, Gottfried Michael Koenig and Rainer Riehn. Raw material -we need to reflect on this period- a real revolution: music produced by machines designed to construct a new era. Officially founded on September 1, 1960, at the instigation of several people representing cultural institutions, the Institute For Sonology had already taken initiatives in the field of electroacoustic music since 1954. A large complex of studios (initially under the name STEM = STudio voor Electronische Muziek) was set up under the patronage of the Utrecht University in an old house on the Plompetorengracht in Utrecht. SIDE 1: 1. Dick Raaijmakers - Piano-Forte/1959-60 2. Frits Weiland - Studie In Lage Impulsen/1961 3. Ton Bruynel - Reflexen/1961 SIDE 2: 1. Konrad Boehmer - Aspekt/1965-67 SIDE 3: 1. Gottfried Michael Koenig - Funktion Orange/1968 2. Rainer Riehn - Chants De Maldoror First Part/1965-69 SIDE 4: 1. Rainer Riehn - Chants De Maldoror Second Part/1965-69
SOUNDTRACKS/LOUNGE/CULT ETC
Volume #10 in this amazing series of slow grinding R&B/soul/exotica tunes as they are being played in a club in Melbourne/Australia. Compilation by Mohair Slim (SGF resident). Liner notes by SGF/mastermind Richie1250. SIDE 1: 1. The Caribs - Taboo 2. Ella Mae Morse With Les Baxter & His Chorus & Orchestra - Down In Mexico 3. The Bobbettes - Mr Johnny Q 4. Prince Conley - I'm Going Home 5. Tony Adams - The Blues Don't Like Nobody 6. Titus Turner - My Lonely Room 7. Eddie Lang - On My Way SIDE 2: 1. Frances Faye - St James Infirmary 2. Marie Knight - To Be Loved By You 3. Richard Berry - Sweet Sugar You 4. Jimmy Rogers - What Have I Done 5. Caterina Valente - Un P'tit Beguin 6. June Alexander - The Girl That Radiates That Charm 7. C.L. & The Pictures - I'm Asking Forgiveness
'BLUES & RHYTHM, POPCORN, EXOTICA & TITTYSHAKERS VOLUME 11 & 12' - First time on CD! Volumes 11 and 12 in the 'Exotic Blues & Rhythm' series, originally released on limited edition 10" vinyl! Enjoy amazing and danceable tunes from the late '50s and early '60s - a handful of popcorn dancefloor smashs, a few grinding tittyshakers, awesome rhythm & blues - most of them with an exotic twist! TRACKS: 01. Pancho Villa & The Bandits - Ain't That Bad 02. Scott Garrett - The Day I Died 03. Dante & Friends - The Magic Ring 04. Terry Phillips - Don't Leave My Arms 05. Bill Haley & The Comets - Thirteen Women 06. Denny Ezba & The Fabulous Goldens - Susie-Q 07. Wes Reynolds - Say There 08. Tommy Bruce - Shakin All Over 09. Bobby Nichols - Oh Lord Give Me Back My Baby 10. Little Victor & His Jivin' Five - Loc-a-li 11. Barry Martin - Minnie The Moocher 12. Mamie Perry & Gus Jenkins Orchestra - I'm Hurted 13. Aris Carandanis - Albas Shake 14. Ruth Christie - This Must Be Love 15. Rusty Evans - Jack Hammer 16. Grainger Hunt - Noah 17. Paul Williams & His Orchestra - Women Are The Root Of All Evil 18. Carl Stevens - The Call Of The Jungle 19. The Champs - Ali Baba 20. Billy Grammer - Princess Of Persia 21. Hector Rivera & His Orchestra - Yabucoa 22. Little Luther - Eeny Meeny Minie Mo 23. Bobby Darin - Similau 24. Bobby 'Blue' Bland - I'll Take Care Of You
Volume #9 and10 in this amazing series on one 79 minute CD. Slow grinding R&B/soul/exotica tunes as they are being played in a club in Melbourne/Australia. Compilation by Mohair Slim (SGF resident) and SGF mastermind Richie1250. TRACKS: 01. Abie Baker - The Web 02. Lee Richards With Lefty Bates Orchestra - I'm Waitin 03. Sam Butera & The Witnesses - Fever 04. Frank Heppinstall - Sweetheart 05. Frankie Laine - Kisses That Shake The World 06. Dick Holler And His Rockets - Living By The Gun 07. Johnny Guidry With Jeanie & The Clowns - The Place 08. Joe & Ann - Mr.Blues 09. The Miracles - Speak Low 10. The Patriots - Walkin' On Air 11. Van Prince & His Complex - Hey Hully Gully N. 2 12. Roy Gaines - Black Gal 13. Jimmy Witherspoon - Danger 14. Lonnie Donegan & His Skiffle Group - The House Of The Rising Sun 15. The Caribs - Taboo 16. Ella Mae Morse With Les Baxter & His Chorus & Orchestra - Down In Mexico 17. The Bobbettes - Mr Johnny Q 18. Prince Conley - I'm Going Home 19. Tony Adams - The Blues Don't Like Nobody 20. Titus Turner - My Lonely Room 21. Eddie Lang - On My Way 22. Frances Faye - St James Infirmary 23. Marie Knight - To Be Loved By You 24. Richard Berry - Sweet Sugar You 25. Jimmy Rogers - What Have I Done 26. Caterina Valente - Un P'tit Beguin 27. June Alexander - The Girl That Radiates That Charm 28. C.L. & The Pictures - I'm Asking Forgiveness
AFRO-BEAT/FUNK & PSYCH/DESERT BLUES/ETHIOPIQUES
Dig This Way presents the fully restored and remastered edition of Mad Man Jaga's 'Wakabout' LP, originally released on Sir Victor Uwaifo's label Joromi (Nigeria, 1978). Musically the LP is a fairly unique collection of percussive Afrobeat funk, the record also feature a finest example of African reggae roots cut to vinyl: 'Tell Me Why You Cry'. This reissue also contains a bonus track.
'THE FUNANA REVOLT IN 1990S CABO VERDE' - First various artists compilation of raw accordion-driven Funana music from Santiago Island, Cabo Verde. This compilation distills eight tracks from a short period in the late '90s when cherished pioneers, who risked everything give their proud culture a sound, got their one chance in a recording studio. Pour yourself a grog, Cabo Verde's local moonshine made from sugarcane crushed by bulls, imbibe responsibly, listen carefully, and dance recklessly. Cabo Verdean Funana music is a sibling of Colombian cumbia. Two artists on the album are currently touring regularly: Bitori and Ferro Gaita. Includes an in-depth back story about how Cabo Verde's first democratic election brought this music, isolated for most of its history to the rural areas, out of isolation. Compiled from rare albums recorded in the late '90s, each of the artists included did not record more than 1 album. The opening track is from an album that sold 40,000 copies in a country of just 400,000 people. Remastered by London's The Carvery to give the sound its original analog warmth. Comes on 180 gram heavyweight gatefold LP with authentic Cabo Verdean artwork and a 12" 12-page booklet. SIDE 1: 1. Rei Di Tabanka - Ferro Gaita 2. Mulato Ferrera - Etalvinho Preta 3. Nha Boi - Tchota Suari E Chando Gracioso 4. Nha Lutcha - Avelino E Orlando Pantera SIDE 2: 1. Pom Um Grogu - Peps Love 2. Mô Na Máma - Bitori E Fefé Di Calbicera 3. Rabidanti - Orlando Pantera 4. Tra Tchapéu - Fefé Di Calbicera
SINGLE #1: CREATION'S DISCIPLE
Side A: Psychedelic Retraction
Side B: I'll Remember
SINGLE 2: THE BEAUTIFUL DAZE
Side A: City Jungle Part 1
Side B: City Jungle Part 2
SINGLE 3: THE DONNYBROOKES
Side A: Time Will Tell
Side B: You're Gonna Cry
SINGLE 4: THE HOOTERVILLE TROLLEY
Side A: No Silver Bird
Side B: The Warmth Of Love
SINGLE 5: THE IGUANA (a.k.a. THE IGUANAS, with Iggy Pop!)
Side A: Black Suit
Side B: Leaving You Baby
SINGLE 6: The ZAKARY THAK(S)
Side A: My Door
Side B: Green Crystal Ties
Blog
Previous editions:
30/06/2020 10:32 SPOTLIGHT 26
22/06/2020 10:20 SPOTLIGHT 25
15/06/2020 11:08 SPOTLIGHT 24
08/06/2020 10:15 SPOTLIGHT 23
31/05/2020 16:26 SPOTLIGHT 22
25/05/2020 15:32 SPOTLIGHT 21
19/05/2020 07:59 SPOTLIGHT 20
11/05/2020 18:28 SPOTLIGHT 19
05/05/2020 08:01 SPOTLIGHT 18
27/04/2020 10:30 SPOTLIGHT 17
20/04/2020 13:59 SPOTLIGHT 16
14/04/2020 07:50 SPOTLIGHT 15
06/04/2020 17:10 SPOTLIGHT 14
30/03/2020 18:16 SPOTLIGHT 13
22/03/2020 16:54 SPOTLIGHT 12
12/03/2020 14:26 SPOTLIGHT 11
09/03/2020 10:53 SPOTLIGHT 10
02/03/2020 13:13 SPOTLIGHT 9
24/02/2020 13:48 SPOTLIGHT 8
17/02/2020 10:40 SPOTLIGHT 7